Post by The Clown on May 29, 2014 3:04:41 GMT -6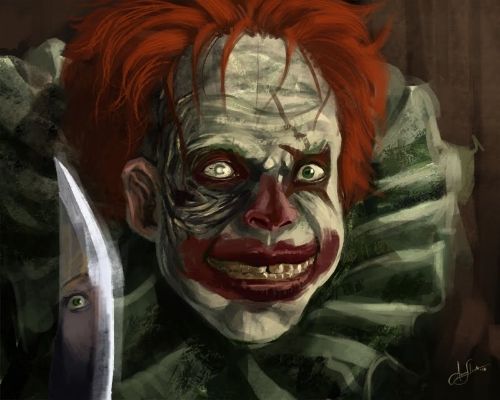 Full Name: Earl Baudeau
Nickname: Cousin Earl
Age: 26 years old (at death)
Height: 5'10"
Gender: Male
"And laughter rose from the circus tent as the clowns drove on in their happy jalopy and gave balloons to the children, and when they left there were smiles on the faces of nearly all those in the audience, except for the very clever children who sensed that there was more to clowns than bright suits and funny cars and oversized feet, and that if you were wise you didn't laugh at them, and you stayed out of their way, and you never pried into their business, for clowns are lonely and angry and want company in their misery. They are always seeking, always searching for new clowns to join them..."
— Some Children Wander By Mistake
Origins:
Earl is cousin to the Baudeau Twins. He often visited the Manor as he was growing up, not having lived directly on the property. Being an only child he would often play games with the Twins. Sometimes those games weren't favorable for Earl but he went along with them to prevent the Twins from getting too bored with his company. Earl was very clever when it came to playing pranks on people; which the Twins loved to participate in. One of his favorite pranks was to sneak up behind people with a tiny horn that he would honk to scare them. Little did he know that those games would eventually lead to his death.
On a Halloween night, when he had attended a party held at the Baudeau Manor, Earl came dressed as a clown. During the festivities of the evening Earl convinced everyone that it would be fun to play hide-and-go-seek inside the house. With his bag of candy goodies in hand, Earl scattered with the other guests to find hiding places, while the Twins remained in the party room counting. Inside one of the many guest rooms, Earl found an old trunk located just inside a spare closet. Knowing that the Twins would not find him there too quickly he climbed inside and closed the lid above him.
Three weeks later, after extensive searching of the swamplands and lake to try to find any sign of the missing cousin, Earl's body was finally discovered when one of the housemaids complained of an unpleasant stench emanating from a room. He had perished inside the trunk. His candy sack was empty where the young man had tried to keep himself alive by eating it all, piece by piece. Mysteriously enough, no one knew how he became trapped in the trunk.
It had become locked from the outside. Not only the trunk, but the closet door as well. The Baudeau family dismissed it as just another unfortunate accident that had taken place beneath their roof -- yet rumors abounded that dear Cousin Earl might have been locked inside on purpose. He was buried on the property, still wearing the clown costume that had been on him when he'd died. Believing that Earl would want it with him, they buried his tiny horn in his coffin with him as well.
Present:
In the darkest parts of the Manor, it can be found. The Clown's presence is known by the unmistakeable, jarring sound of a horn honking in the darkness around its chosen prey. Those who are not quick to seek sources of light might soon find themselves in the clutches of the Clown. It is a hungry monster in death; flesh and bone are the only things that truly sate its hunger.
Located where its torso used to be is a large, gaping mouth full of sharp needle teeth. It will usually eat its captured prey by feeding them head first into that maw. The Clown can swiftly devour anything once it has caught it that way. It will just as easily take limbs directly off of people with a single bite -- and once it has had a taste of someone's flesh, it is always eager for more of the same.
Weaknesses:
The Clown has an aversion to light. It will not venture into lit places, and will flee from sources of light like matches, flashlights or fire. Setting it on fire could potentially kill it -- for a time.
While the Clown is relentless in chasing its prey, it does not move very fast. Those who encounter it and flee may hear the slow shuffle of large shoes scuffing on the floorboards behind them.
When he has taken prey, the Clown will often drag it back to the chest for proper devouring. At this time, it is possible to lock the monster inside. However, this will guarantee the loss of a living person.