Post by Prussia on Sept 6, 2012 15:26:07 GMT -6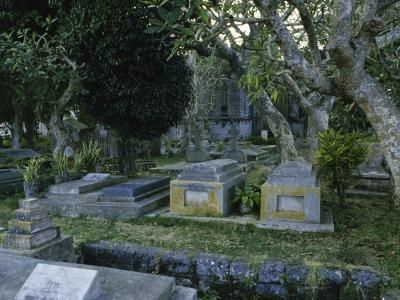 They said that the graveyard here was haunted.
Gilbert had never seen a ghost before. This was motivation enough for him to try his luck venturing out amongst the tombstones. What fascinated him about this cemetery was the fact that the plots were all above-ground. He had heard that swampy places like this had no choice except to bury their dead this way -- the sponge quality of the soil often pushed coffins back up to the surface. That was something the Prussian had seen in a morbid documentary that had managed to snare his attention one late, sleepless night.
Though seeing a coffin shoving its way up out of the ground would have been pretty epic, at least in Gilbert's opinion. He stepped cautiously through the overgrown brush and weeds that had grown up around the tombs. The earth was swallowing up these man-made structures, as if to prove that it could still claim the flesh and bones that had been denied to it. With no one to care for the graveyard, much of the tombs were already crumbling.
He stopped in front of one of the plots. There was an angel standing, standing silent guard over the body that had come to rest in the tomb below. Gilbert crouched down, running a pale hand on the surface of the cracked marble to try deciphering the name along with the date of death.
Marceline Baudeau
Born: August 24th, 1789
Died: December 5th, 1789
[/font]
May The Angels Watch Over You
[/size][/font]
"Oh... It was just a little kinder." The Prussian murmured, a numb sadness falling heavy around him. Some little baby that had gone to death too young. He pursed his lips as he contemplated the faded name in front of him, then looked back up to the angel above. It's eyes were open, staring sightlessly but expression melancholy. Gilbert puffed out a breath that rolled in a cloud out of his lips.
The Prussian started pulling at the vines and kudzu that was choking at the tombstone. What harm would there be if he tidied this one up a little? It wasn't like he could do much without proper tools or the knowledge of how to make repairs. If he could do something as simple as clear away some of the grime, that alone would feel like an improvement. Pale fingers became quickly coated in dirt as Gilbert continued to brush the marble clean.
He was so absorbed in his task that the albino didn't even hear the tread of footsteps treading somewhere behind him. It wasn't until the newcomer was right behind him that Gilbert finally looked up from his work, jumping in surprise. His cheeks went pink, feeling like he'd been caught doing something silly. He tried to explain it away, "Ah. Just trying to... erm. It belongs to a kid, so..."